Save Money With Rakuten (eBates) When Shopping Online (And Off)
This post may have affiliate links. Please read the Disclosure Policy for complete details.
Important: In no way do I endorse "spending to save money" and think it's a stupid idea. What I do think is smart, however, is taking advantage of ways to save on the items you were already going to purchase or need to buy.
Do you like saving money?
Because I like saving money.
I'm sure most people do.
Except for the cheap people who don't spend…on anything!
But that's a different story entirely. ????
Well, have I got a way for you to do just that!
Ever hear of Ebates?
Well, now it goes by Rakuten but the premise is the same.
You get cash back when you shop at one of its many retail partners.
Wondering how it all works?
I'm going to explain it to you…and give you a few tips for compounding your Rakuten cashback too!
And look, this is my own account so you can see I actually use it myself and I'm not just selling something that pays me to! ????
Before we get into it, I'm going to address one huge problem I have with how this program is framed in many instances.
"Getting Paid" To Shop with Rakuten
I'm not going to go on for very long about this, you just need to be absolutely clear about something.
YOU DO NOT "GET PAID" TO SHOP WITH RAKUTEN.
This isn't a secret shopper job where you get your money back plus a fee.
This isn't one of those apps that pays you to browse or complete a task.
You are simply getting a refund of a portion of your total spending per store.
This isn't "getting paid".
You're getting a rebate, plain and simple.
Whew, it felt good to get that out ????
Now we can move on…
What Is Rakuten?
Rakuten, formerly eBates, is a shopping portal.
It's what's called a super affiliate.
Rakuten is an affiliate of hundreds of online stores that pay out a commission–either a flat fee or a percentage of sales–to the site operator.
The same as any other blog or website you visit which promotes a product or service for a commission (just like this one!).
This is also similar to many rewards sites that give you "points" toward some reward for filling out a survey, watching a video, or requesting more information.
They get paid for sending people and in return cut you in for a portion of that money in some form.
The exception is here, you are getting actual cash at face value.
How Does Rakuten Work?
Instead of pocketing the entire affiliate commission it receives, Rakuten turns around and shares that commission with you.
Here's how the whole thing works:
As an affiliate, Rakuten is given a commission as:

Flat cash rate or
A percentage of sales

Rakuten then lists the affiliate offers on its site with slightly lower offers for you
You click through and shop using the Rakuten affiliate link
Rakuten gets notified of its earned commission
You get credit banked for your transaction
Rakuten gets paid
You get your banked total from Rakuten's full cut transferred to your PayPal account.
Or, you can instead opt to get one of a number of gift cards and get a "bonus" added to that total.
It's that simple.
You only need to have $5 in earnings to qualify for a payout.
The one thing I think would make the program even better would be if you could link directly to your financial institution to, let's say, fund your emergency fund, and bypass PayPal.
Rakuten Works In-Store, Too
It's not just online shopping where you can get cash back from Rakuten.
There are select retailers where you can shop, too.
The cashback rates are slightly lower, but it's still money coming back to you!
The process is just as easy as shopping online:
Visit the Rakuten website or the mobile app
Go to the In-Store Cashback section
Link the specific store's offer to your account
Add your credit card to your Rakuten account (if you haven't already)
Go shopping
When your transaction is processed, Rakuten is alerted and begins to process your cashback rebate.
Rakuten Browser Extension(s)
Shopping with Rakuten is even easier when you use the browser extension.
It's unintrusive and simply puts a little Rakuten logo in the extension area of your browser window.
When you land on a website that Rakuten has an affiliate relationship with, it flashes and displays a small dropdown message stating the deal amount.
Like Best Buy, for example (as in the image below), or when you are shopping for kids' books about money–let's be real, that's both practical and entertaining at the same time.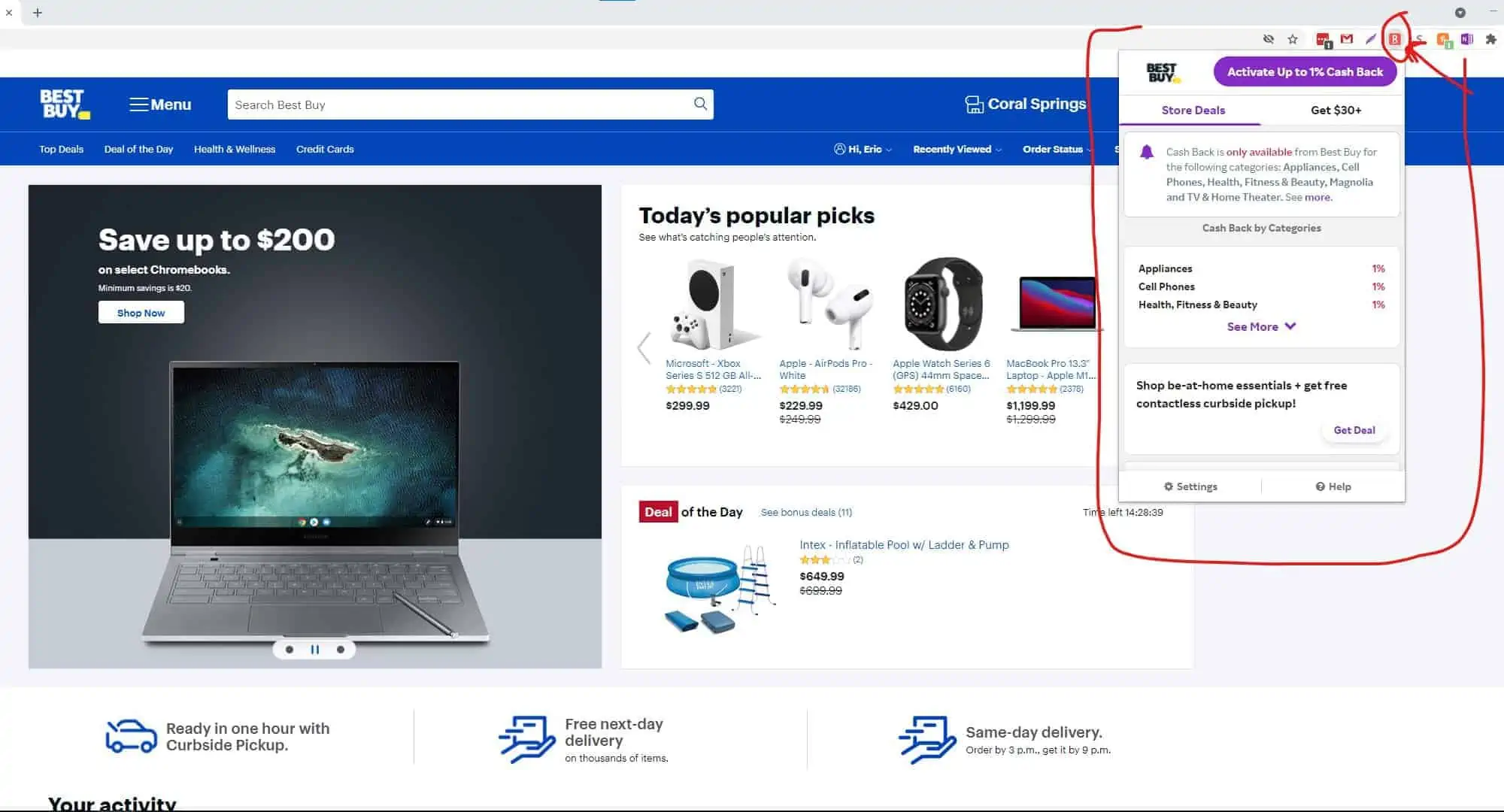 That's all there is to it–no big to-do or heavy displays.
All you have to do is click on the window message that says "activate now" and your offer is active.
You shop like normal and earn that deal.
Rakuten + Coupon Codes = Extra Savings
Everyone loves using coupons, amiright!?
Well, not only do you get cash back by shopping with Rakuten, but you also get to stack coupons on top of it.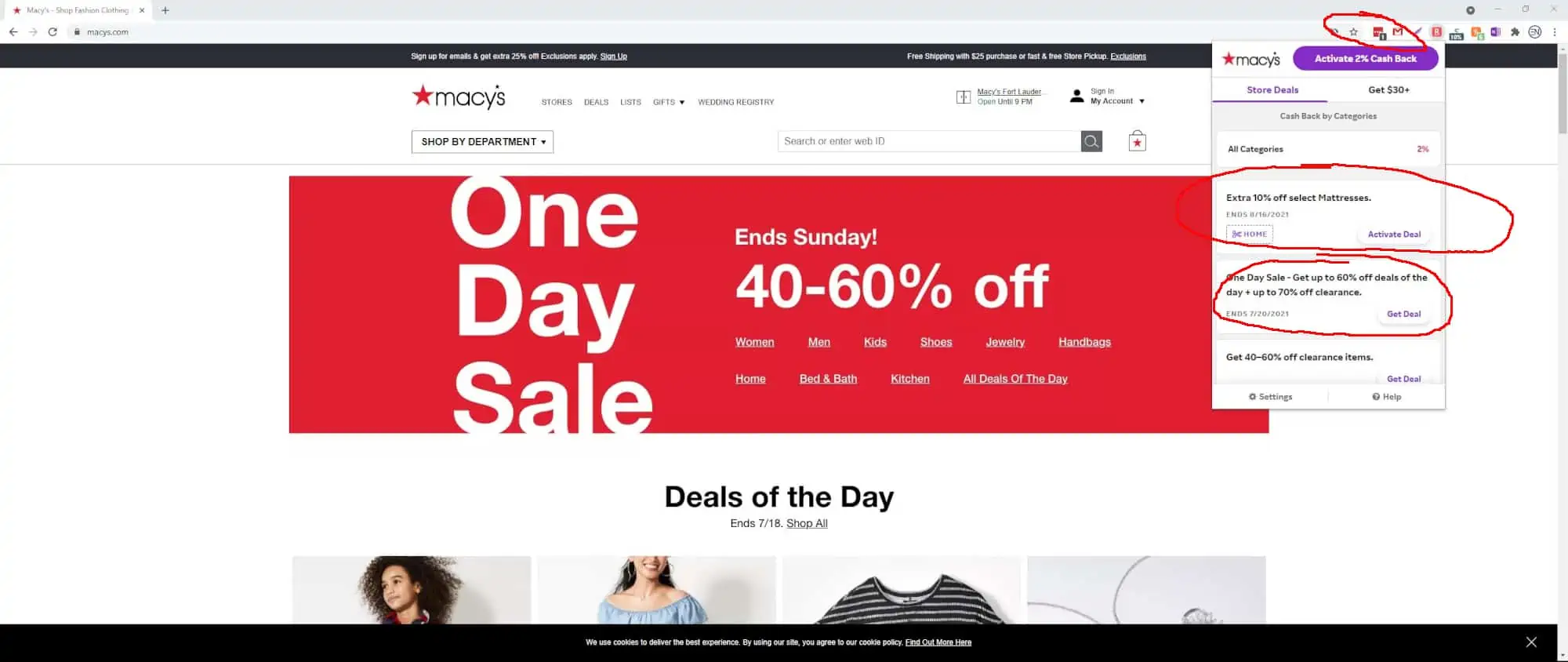 Once you have activated Rakuten savings on a particular store site, just click on the "R" in the browser extension.
There you'll see a list of all of the applicable coupons available for use.
There is one catch, however.
The only coupons you can use are ones that are listed in the Rakuten browser extension or on the Rakuten website itself.
If you use a coupon code found elsewhere, there is a better than good chance that the cashback savings will be canceled out.
It's right on the website for you to look up yourself, so don't say I didn't warn you!
Rakuten + Coupons + Credit Cards = Super Savings
Let's say you like the idea of saving money with Rakuten.
Let's also say you really like the idea of stacking coupons on top of those savings.
If that's the case then you're going to be ecstatic about this.
You can save even more if you have a credit card that does special offers.
For instance, certain Chase cards have "offers" if you can call it that lol:
American Express, on the other hand, has a much better selection–and this is just a small sample of the Amex Offers section (I usually have about 100 offers to choose from):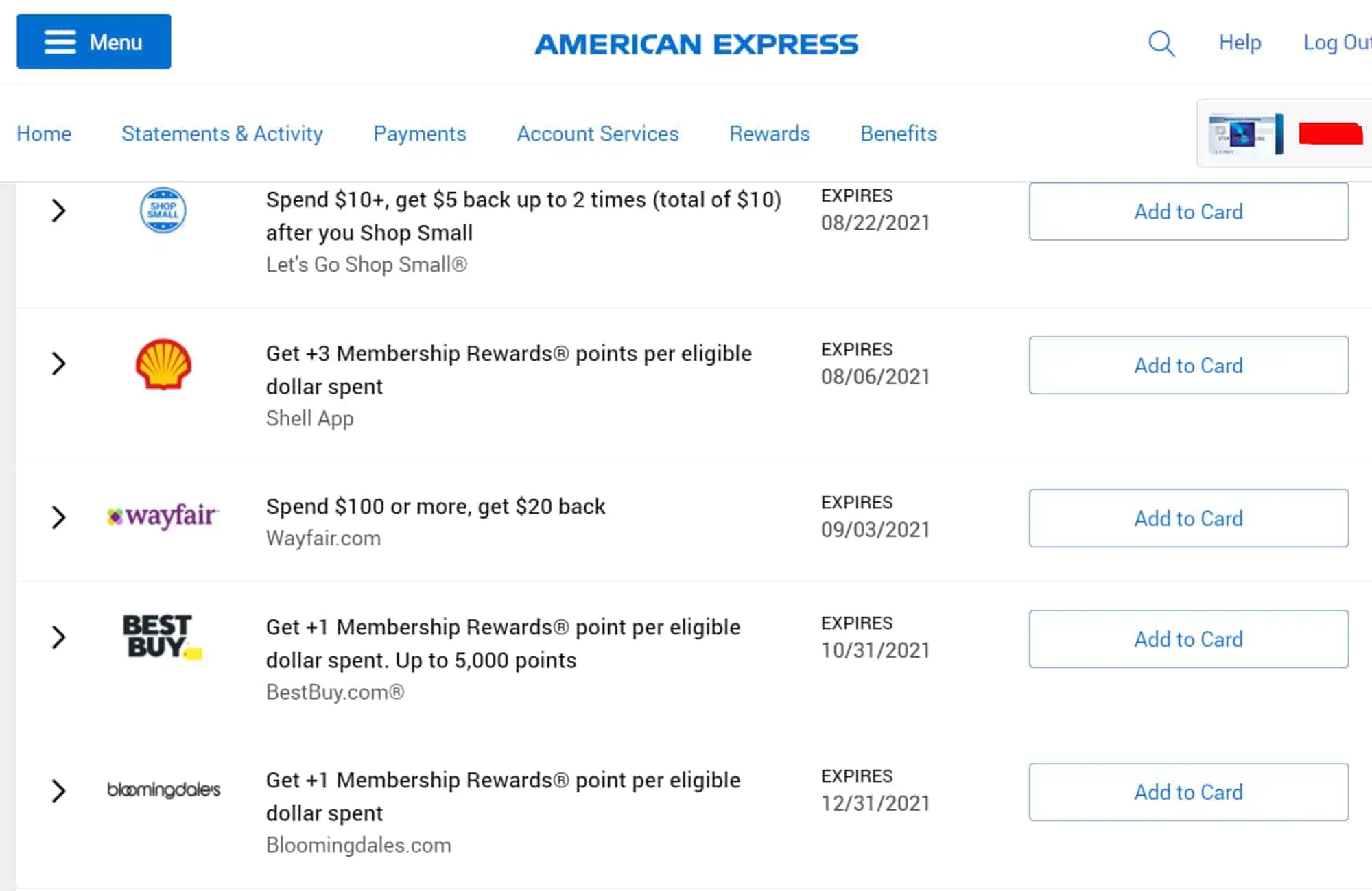 The best news is this is going to be completely independent of anything else.
You will see the savings at some point on your credit card statement…assuming you remember to add the offer to your card first. ????
Imagine what kind of savings you can pile up on the things you were already going to purchase, just by being smart about how you approach them!
Sometimes, you may even get to stack all of this stuff with your Amazon Prime purchases for supreme savings!
Is Rakuten Cashback Taxable?
In a word: NO!
I bet you're glad to hear that! ????
To expand a little bit, the words are what matter.
The term "cash back" means a return of your money on a purchase.
It's another way of saying "rebate".
According to the IRS, a rebate is considered to be nontaxable income:
A cash rebate you receive from a dealer or manufacturer of an item you buy isn't income, but you must reduce your basis by the amount of the rebate.

Internal Revenue Service, Publication 525
In other words, the check or PayPal transfers you receive from Rakuten are not taxable income and you don't have to worry about reporting it on your income tax return!
Rakuten Gift Cards Instead Of Cash
The rebates you get for shopping through the website aren't limited to just cashback.
You can also exchange your rewards for gift cards to a limited number of stores.
When it comes time for your cash reward to be sent out, you will get the option to not only select a gift card instead of the cash but with a bonus on top.
The highest gift card bonus I've seen is 15% added to your cashback balance to choose the gift card.
The numbers will vary, but if you're looking to maximize your return this is the way to go–assuming there is a gift card you can actually use.
If you choose to get the gift card, that income isn't taxable either, so you're safe either way (unless and until the IRS makes changes to what's considered taxable income).
Rakuten Or Capital One Shopping (F/K/A/ Wikibuy)
Rakuten isn't the only savings game in town.
I also use the Capital One Shopping (which bought WikiBuy) browser extension parallel to it.
Why?
Sometimes you can find a store that's partnered with Capital One Shopping but not Rakuten.
Sometimes the discount is greater with Capital One Shopping than with Rakuten.
But there's a huge disadvantage when using Capital One Shopping.
And that's redeeming choices.
With Rakuten, as we already discussed, you can get cash via PayPal or on a gift card from a few select stores with a bit of bonus on it as a reward.
With Capital One Shopping, you can only choose a gift card, and with no bonus.
On top of that, the gift card selection is..let's say "limited".
My preference is the one that gives cash back to be perfectly honest.
Wrapping Up
That's all there is to it.
You now know what Rakuten is, how it works, and how to benefit from it.
You even know how to squeeze a little extra saving out of the deal!
Let me reiterate one thing, however:
If you can't afford to buy something that's a want, you should not be spending the money on it, regardless of how much cash you can get back or what the coupon savings are.
Making a budget and sticking to it is the most important thing.
The concept of "spending to save" is bullshit and you always come out behind–you always end up with less money than you started.
If, however, you have a handle on your finances and can afford to spend your discretionary income, then, by all means, go ahead!
Just please be responsible with your money.
If you haven't tried it out yet, here's your chance.

Sign up now and get $10 added to your Rakuten cashback balance when you complete your first qualified purchase!

And if it's not for you, hey, it's not like you spent any money…it's completely free.
Your Turn
Have you been using Rakuten when you shop? Do you find the savings worth the effort? If you haven't used it what's your reason? Have you ever stacked the savings, coupons, and statement credits together to get huge savings?